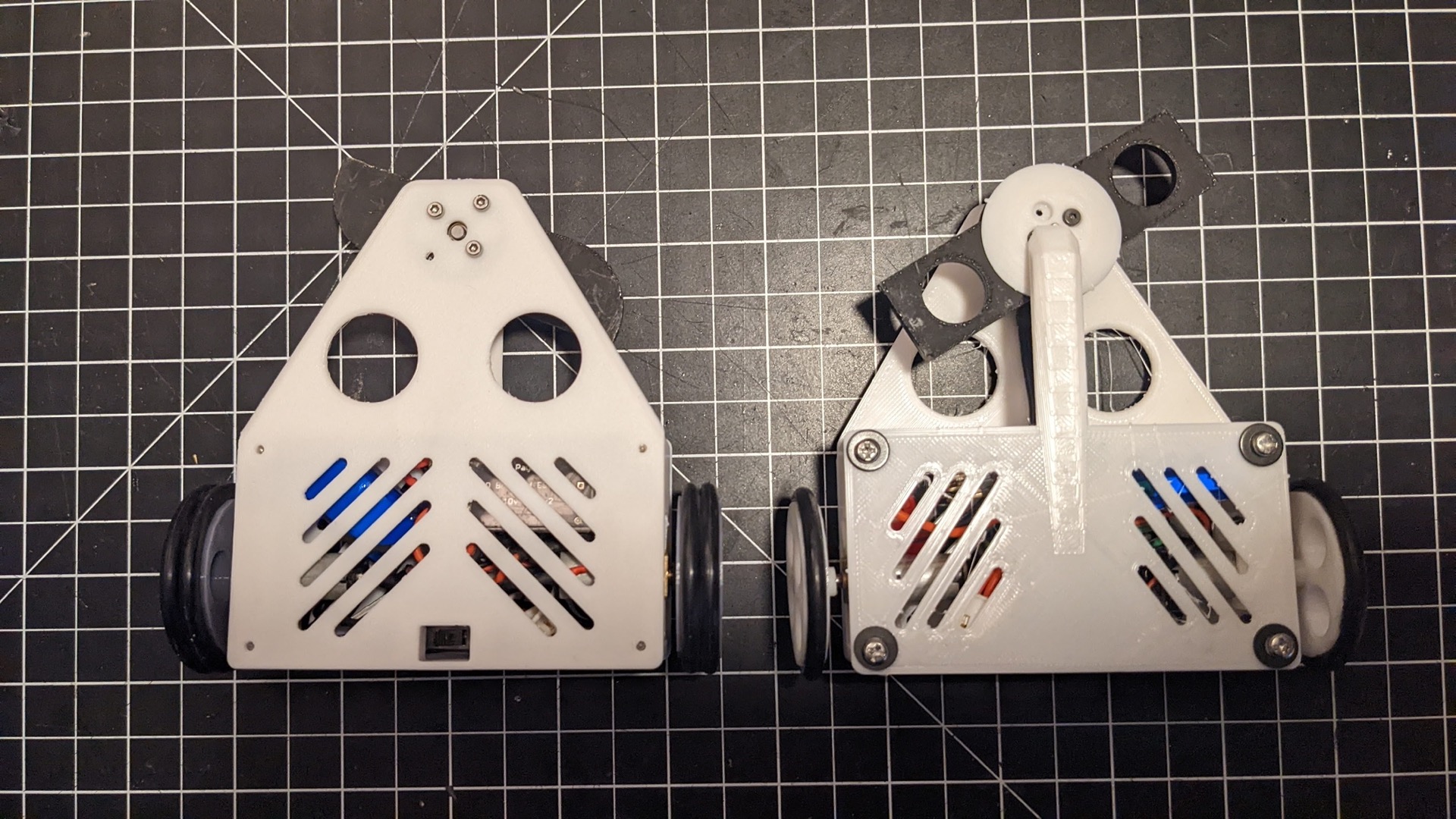 Smashbotz Sessions 1/8/22
This is a smaller, lighter weight event and as such will get a smaller, lighter weight combined assembly and event recap post. Lets get into the 'bot upgrades first.
I only brought my 150g Netsplit this time around, as they weren't running Beetles and I didn't want to design a whole new bot over the holidays. Since it did so well last time, my upgrades to Netsplit were pretty limited. If it ain't broke don't fix it right? I added some speed vents to the top and bottom which saved me a couple grams and look pretty cool. The fasteners for the lid are now the full height of the chassis, and are moved a little inboard to accommodate the washers and give me some crumple zone when I take corner hits. I also added a label to the back. That's pretty much it.
On to the event. The bracket was pretty tough this time around with lots of powerful spinners, not many first timers in the crowd. I attended this one solo and didn't have anyone to film, buy luckily SmashbotzTV was there and streamed all the fights on twitch. The videos below are taken from that livestream.
My first fight was against UpL, which is half of the plastic antweight UpLift. I went into the fight pretty confident, not realizing that UpLift is the top rated plastic ant on BotRank. Oops.
I think I was in with a chance here, I had good maneuverability on the aluminum floor to start with and my weapon was able to cut pretty good chunks out of UpL. Unfortunately one brilliant maneuver basically took me out. UpL's lifter tipped me onto my side and caused my weapon to hit the floor, which sent me flying into a wall shattering one of my drive gearboxes. I was able to limp around and even got a chunk of UpL's lifter, but I had no more control in that fight. Eventually they shoved me into a corner where my wheel got stuck in the closed pit and I was counted out. Later in the tournament they started doing unsticks in that edge, but this was only the 2nd fight of the day and honestly I had already lost, so no reason to press the issue.
Now I get to explore somewhere I'd never been before… the losers bracket! First up was Baby Bunny, a very old grabber from the Team Malice.
Baby Bunny had some radio issues which prevented us from getting a true fight, even after a reset. Not a lot to say about this, I got some good contact but didn't do too much damage. I think I might've gotten a bit of their tail fuzz off. The tried to shove me in the corner I got stuck in earlier, but since both wheels were working I was able to get out. Eventually it just got stuck full on driving into the wall.
Next up was Micro Malice, again from Team Malice. Regular readers will remember that we went 1:1 at the last Smashbotz. I was excited for this match to be the tie breaker.
I start the match upside down because I know their weapon tooth is at the perfect height to destroy my weapon motor. Unfortunately the first hit throws me across the arena and right side up. I was able to hit their wheels a couple times, which affected their mobility, but then blew my lead by charging weapon first into their spinner. Their broken wheel was still preventing them from translating, but I reengaged to try and shove their weapon into the wall. Then one hit took out both of my drive gearboxes somehow, and that was it.
This loss took me out of the tournament, but I appreciated having a couple hours to just attend the event without being worried about who my next fight would be or what was going on with my repeated gearbox failures. I got some great advice about using Isopropyl alcohol to soften up the O-Rings I use for tires, it makes them almost tacky and greatly improved my traction. I also the way a few of the bigger bots shock mount their N20s, something I might copy in the future to make my drive a little more reliable.
Next up for me was the rumble! The plastic ants and fairies were combined for this which explains the couple of huge robots.
I've been eagerly waiting for a rumble so that I can run my obscene single tooth weapon. It's not balanced so it destroys my mobility, but it hits really hard. Almost immediately I lost both of my gearboxes again for a total of 5 drive gearboxes this weekend. Even as a wiggly arena hazard I was able to get some solid hits and throws on other robots. Eventually I was just watching the other robots with my weapon at 50% throttle in case anyone came close.
Even though I didn't win much this weekend I consider it a huge success. I had a lot of fun, chatted with lots of cool builders and learned a bit more about my robot's weaknesses. I've got some concrete ideas for how to improve the reliability of my drive, I just hope I can get more motors in before the next event!