Netsplit Assembly and Test
Developing a combat robot has been a lifelong dream of mine, I've watched tons of builders on YouTube and elsewhere, and even as a young kid watching Robot Wars on PBS begged my dad to help me make one.
The standard advice when starting in combat robotics is to begin with a wedge. While I think that's reasonable advice, I chose to ignore it and make a clone of Tombstone instead.
Well, that's not strictly true, I made a few different robots. Including a wedge and drum spinner found on Tinkercad, and a vertical spinner I might finish up for a future competition. Vertical spinners don't seem to work too well at this weight though, I don't think you can really get enough mass into the weapon while still having a controllable machine.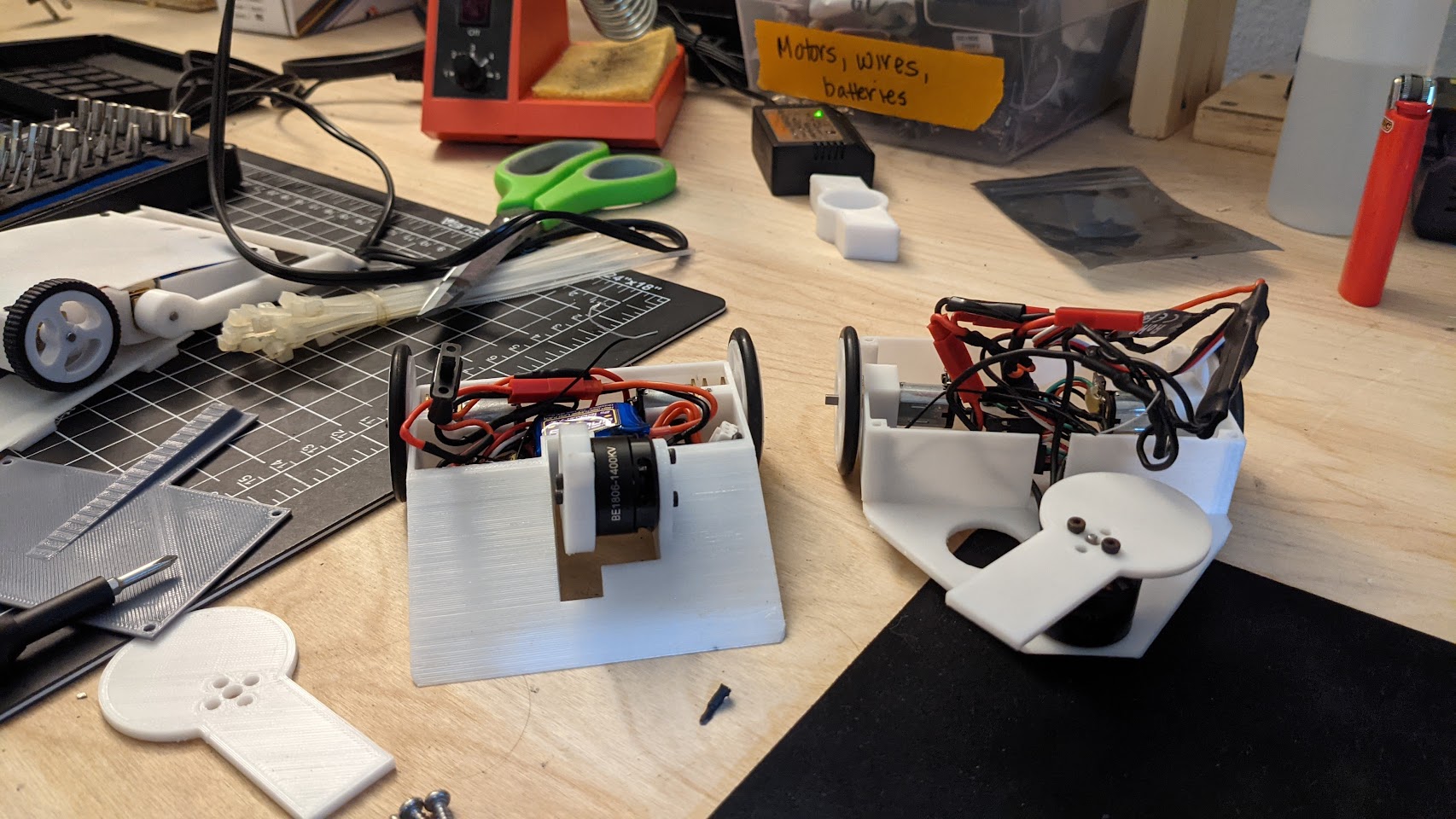 Early on my plan was to run a steel ruler as my weapon, but it wasn't as destructive as I would've liked. Also while iterating on the chassis design and electronic components I just kept picking up extra grams, so something a bit chunkier was in order. AR500 3mm bars from SendCutSend to be precise.
I know (from my own testing) that PLA isn't a great material for robot combat. However it sure is cheap and easy to work with. I've printed and destroyed a couple dozen of these chassis in various ways and strengthened it each time, but I definitely don't have the same variety of bots I'll face in competition. My biggest concern is going up against another big horizontal as the 3d printed wheels I'm running come off pretty easily, and the weapon motor is exposed right up front.
Check out the assembly video for some fun test footage and more commentary about my concerns and design intentions.
Finally here are some hero shots with the bars. You can find the designs to make your own Netsplit on Thingiverse.